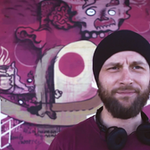 Kid Doom
All my society6 income is donated the Skateistan Project. Help me support them. Thanks in advance.
Danny Doom aka Desur aka Kid Doom is german street / urban / contempt artist / illustrator. He started with graffiti, got into painting, fine arts and graphic design until he ended up mixing traditional, illustrative, street and digital art. His work is focused on unraveling problems of perception, ignorance, god, the devil, the universe and everything. In many details of his imagery he plays with hidden messages, riddles and ambiguity.
Some of his motives are easy to be recognized and some are rather abstract. Over the years DDoom took part at projects of all sizes, from small collaboration paintings to several hundred square meters of graffiti murals and was lucky to have been working all around the world with icons such as daim, os gemeos, loomit, seak, banksy, toast, alex one and countless more.
Amongst others prizes he received the reddot award, the if communication award and was twice new york festival finalist.
Besides that, stay golden, break a leg and don´t fuck with the force. DDoom www.skateistan.org / www.facebook.com/skateistan
Read more