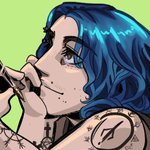 Dragonslayer Johnson
Artist and Illustrator / RPG Fanatic / Death Metal Devotee / Part-time Teacher and Full-time GAMER Hello, and thank you for visiting my humble shop! I hope you'll take your time browsing, and take advantage of the opportunity to have some of my art in your home or on your person!
Read more
Dragonslayer Johnson's Store
Filter
dbf915a8-389a-472d-9675-ae6a826ba35d

New

9e085d2a-9769-4dde-92ef-9576b9bd1041

All
You are currently on society6.com.