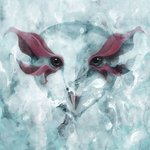 Edward Cao
Edward Cao is a visual artist who creates fine art gallery work and commercial work in paint and digital formats. Juxtapoz described Edward's work as "colorful and chaotic," while Catapult Art Magazine elaborated that he "offers a bedlam of beauty, showered with vivid drizzles that captivate and tantalize the senses, while enticing any art enthusiast into visually arresting scenes and subjects." Edward has exhibited his work in Los Angeles, New York, San Francisco, Las Vegas, Washington, DC, St. Louis, and Taipei. Through partnerships in music, print publishing and apparel, Edward's commercial work has recently appeared on album covers, interactive graphics and t-shirts. He regularly contributes as an artist and blogger to the apparel line Blood Is The New Black. A BFA graduate of Art Center College of Design, Edward lives and works in Los Angeles, California. - http://www.edwardcao.com http://www.facebook.com/edwardcaoart http://edwardcao.tumblr.com Instagram: @edwardcao Twitter: @edward_cao Edward Cao joined Society6 on January 31, 2014
More
Edward Cao is a visual artist who creates fine art gallery work and commercial work in paint and digital formats. Juxtapoz described Edward's work as "colorful and chaotic," while Catapult Art Magazine elaborated that he "offers a bedlam of beauty, showered with vivid drizzles that captivate and tantalize the senses, while enticing any art enthusiast into visually arresting scenes and subjects." Edward has exhibited his work in Los Angeles, New York, San Francisco, Las Vegas, Washington, DC, St. Louis, and Taipei.
Through partnerships in music, print publishing and apparel, Edward's commercial work has recently appeared on album covers, interactive graphics and t-shirts. He regularly contributes as an artist and blogger to the apparel line Blood Is The New Black.
A BFA graduate of Art Center College of Design, Edward lives and works in Los Angeles, California.
http://www.edwardcao.com http://www.facebook.com/edwardcaoart http://edwardcao.tumblr.com Instagram: @edwardcao Twitter: @edward_cao
Edward Cao joined Society6 on January 31, 2014.