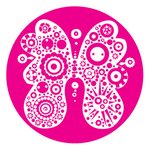 JupiterInLove
♥ Welcome! ♥ Jupiter in Love is the online store of Eleanor Reilly from Cork, Ireland. I believe that like attracts like, so I have chosen to only make positive art. I try to make my work beautiful, or fun, or both. I hope this comes across in my work and makes you feel good! I work primarily in mixed media collage and digital design, using anything and everything that catches my eye, especially sparkly things. All art © Eleanor Reilly For more information, please visit: www.eleanorreilly.com Or come join me on Facebook at: www.facebook.com/jupiterinloveart JupiterInLove joined Society6 on September 29, 2012
More
♥ Welcome! ♥ Jupiter in Love is the online store of Eleanor Reilly from Cork, Ireland.
I believe that like attracts like, so I have chosen to only make positive art. I try to make my work beautiful, or fun, or both. I hope this comes across in my work and makes you feel good!
I work primarily in mixed media collage and digital design, using anything and everything that catches my eye, especially sparkly things.
All art © Eleanor Reilly
For more information, please visit: www.eleanorreilly.com Or come join me on Facebook at: www.facebook.com/jupiterinloveart
JupiterInLove joined Society6 on September 29, 2012.