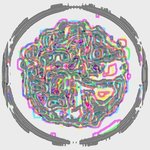 Emily Joy Art
experimental glitch artwork by Emily Joy from 2010.
heavily over-processed photographs result in detailed abstract patterns and new noise.
Photoshop CS5
prints are unsigned. please contact me directly for the original signed prints.
http://emilyjoyart.com/
Read more
Emily Joy Art's Store
Filter
8378efae-3574-4179-98b9-df853ab88372

Popular

9a170165-8d07-472f-a7fa-4829a80d9a1a

All
You are currently on society6.com.