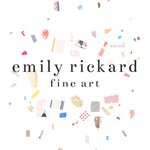 Emily Rickard
Hello I'm Emily Rickard! I studied fine art and art history at the Columbus College of Art & Design in Columbus, Ohio and currently live and work in Los Angeles as an artist and designer.
My love of color is conveyed through my vibrant abstract paintings and mixed media works. A visual expression of joy, my work blends a bright Pop art palette with aesthetics of Abstract Expressionism and a studied appreciation for composition. I love to make art that makes people smile and I strongly believe that living with beautiful art makes for happier people!
For more work visit my blog: www.emmyrickard.com To purchase original artwork and signed prints please visit my Etsy shop: http://www.etsy.com/shop/emmyrickard?ref=si_shop Artfully Walls: http://www.artfullywalls.com/artists/396/emily-rickard Pinterest: http://pinterest.com/emmyrickard/ Facebook: http://www.facebook.com/emmyrickard Twitter: https://twitter.com/emmyrickard Instagram: http://instagram.com/emilycrickard
All artwork ©Emily Rickard 2017 All rights reserved.
Read more