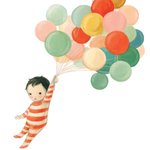 Emily Winfield Martin
Emily makes paintings, books & etceteras.
She works in a tiny nook of a studio filled with old things & wind-up toys. Her work is inspired by fairy tales, music, myths, illustration from the late 19th through mid 20th century, her favorite films, and the natural world.
She likes sea monsters and seashell-colored poppies & lives among the giant fir trees of Portland, OR.
Read more
Emily Winfield Martin's Store