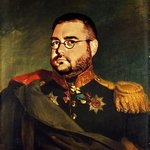 Eric Drummond Smith
Long story short - I'm an Appalachian political scientist and philosopher who specializes in international relations and comparative politics who is also a pop surrealist artist. I was recently dead, but I'm not anymore. I have a couple of websites:
The Big Ugly Hullabaloo - http://www.biguglyhullabaloo.com Ask a Political Scientist - http://www.askapoliticalscientist.com
I also like minor league baseball, college football, live jazz, most things Chinese, books about mythology and science fiction, old cartoons, classical Realist philosophy, and baby ducks. Among other things.
Read more
Eric Drummond Smith's Store
339 results
Filter