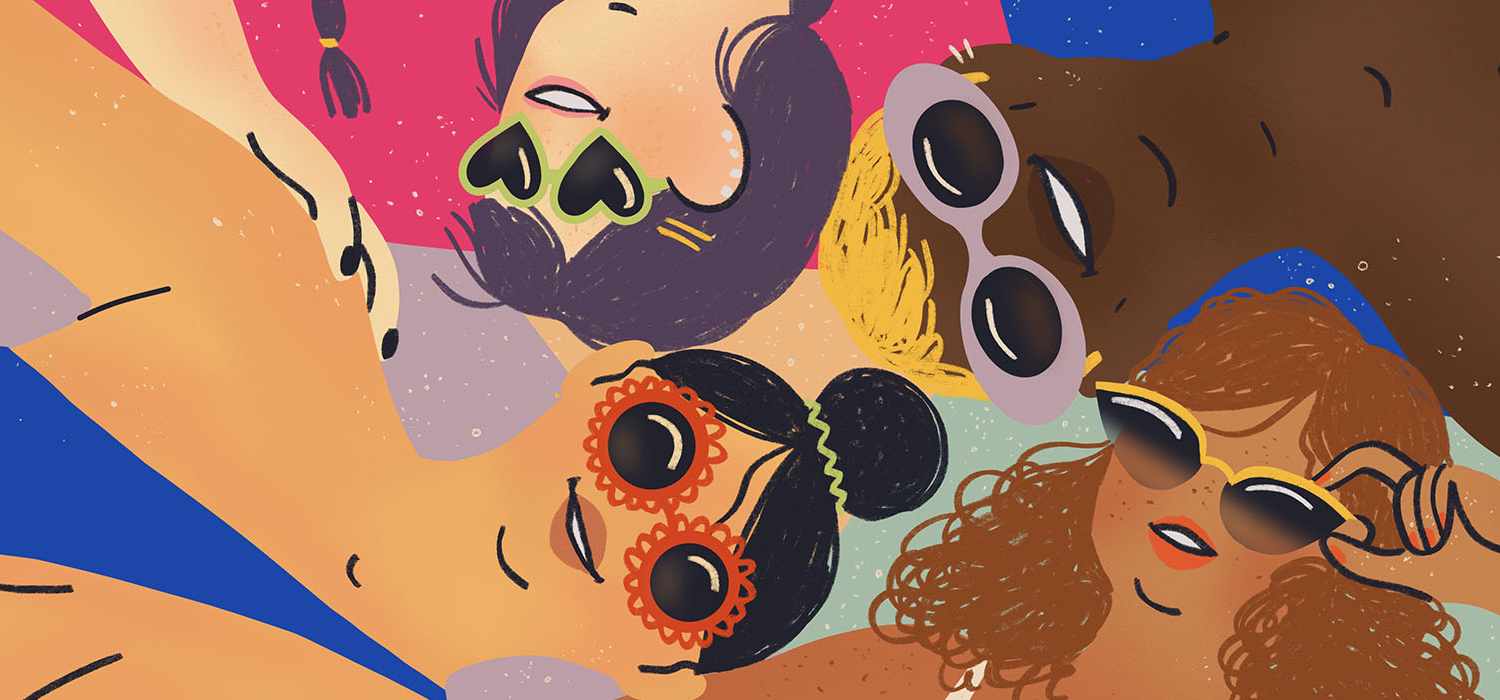 Women's History Month
March is Women's History Month, a dedicated period to commemorate women's vital roles and contributions throughout history. Show your support this month and beyond with inspiring works of art created by the many talented women within the Society6 family. Want to learn more about our featured artists? Get to know them and their creative processes below.
Featured Artist: Elena Ho
"I'm always looking for authenticity and dialogues hiding behind the obvious by trying to find a creative solution to reveal it in a very subtle and romantic way in my art. I would say silence is my language and art is my way of speaking."
"Elena Ho is a visual artist and illustrator living in Santiago, Chile. Her work is filled with bright and contrasting colors where she explores the feminine, emotional and nostalgic feelings that come with an image in an effort to have a better understanding of what she identifies as the ""silent language"" surrounding every static, but still somehow living scene. She has studied the female body and language for many years as a way to recreate the ""silent language"" within her art. This process has helped develop her work further into the study of objects and abandoned scenes in still life art. These themes, motifs and processes can be found throughout the wide range of her work which includes painting, ceramics, muralism, embroidery, and textile artwork. "
Shop More by Elena Ho
Featured Artist: Marina Hunter
"My creativity is driven by my own emotions and how it feels to be a woman. My art is constantly being inspired by moments of self reflection."
Marina Hunter is a photographer and creative director based in Charleston SC. A graduate of College of Charleston, she began her fascination for photography through a BA in studio arts. Marina works primarily between her studio in Charleston and Los Angeles. Her mixed-media editing approach is heavily inspired by surrealism with nodes to the 90's. Music, fashion, and youth culture are some of Marina's greatest influences.
Shop More by Marina Hunter Photography
Featured Artist: Mary Joak
"There's a great satisfaction that comes with listening to your own voice. It doesn't come easy or as you planned it, just let go and let your light shine."
"Mary is an illustrator and visual artist in between Kent, UK and Lagos, Nigeria. She is passionate about telling stories of women, particularly black and women of colour in her narratives depicting their resilience, courage, humanity. Her art represents her personal experiences, feelings and other times it's about her surroundings and influences. Mary's work explores mental health, quiet moments with nature, rest, womanhood, culture, and self-love."
Shop More by Mary Joak
Featured Artist: Natasha Polozenko
"Judging your early artistic efforts is artist abuse."- Julia Cameron, The Artist's Way
Natasha Polozenko AKA @Nataszko is an Illustrator and Educator originally from Sydney Australia, now based in New York City. She creates educational illustration content across Instagram, TikTok, and Youtube to help creatives level up, find their style, and gain confidence in their illustration practices. Natasha's own artistic style is characterized by comically exaggerated, strong feminine forms in natural settings.
Shop More by Natasha Polozenko
Featured Artist: Side Dimes
"I have always gravitated towards art that revolves around current events, equality, feminism, modern-day language and social norms. The idea of merging all these contemporary topics with a time period of art that excluded women expressing or experiencing those same ideas feels like the ultimate rebellion. I like to think my work gives a voice to the women of these centuries and gives them a new meaning, while still celebrating the beauty of the original piece. I'm so lucky to have a community of people that love what I do and consistently inspire me to keep creating work that resonates with them."
Fusing the past with the present, Side Dimes' artist Mikayla Lapierre's bold and irreverent art, aims to make work that sees through cultural norms and defines pop culture in society. Her pieces give a voice to the women of past centuries by mashing up the old and the new — ideas, understandings, trends and pop culture — to create an original and irreverently modern 'side' piece.
Shop More by Side Dimes