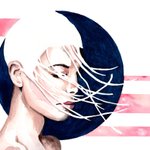 Kasia Blanchard
I pretty much enjoy any kind of creation, whether it's painting, drawing, sketching, crafting, sewing or knitting. ​I'm a Watercolor artist currently living in the suburbs of Atlanta, GA.
I mostly enjoy painting people and animals. In other words living creatures. I feel connected to them on some level. They speak to me with their eyes. I've never much enjoyed painting still life. I've always considered the plants dead and no matter how beautiful they were, I'd see them as decaying.
I use Winsor Newton & Holbein watercolor paints and paint on Arches 140 lb. cold press paper or Ampersand Aquabord. I also occasionally paint with soft pastels.
Feel free to check out my website: www.kasiablanchard.com
Read more
Kasia Blanchard's Store
Filter