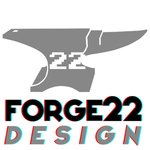 Forge22 - Retrowave, Vaporwave, Art Deco Travel and Steampunk
The best synthwave, steampunk, and art deco in the world. A little bit art deco, some steampunk, and a whole lot of color! Enjoy a fine and wide selection of synthwave, Outrun, deco, steampunk and more. Sam Perkins-Harbin is a Milwaukee based graphic designer. Forge22 - Retrowave, Vaporwave, Art Deco Travel and Steampunk joined Society6 on July 25, 2012
More
The best synthwave, steampunk, and art deco in the world.
A little bit art deco, some steampunk, and a whole lot of color! Enjoy a fine and wide selection of synthwave, Outrun, deco, steampunk and more.
Sam Perkins-Harbin is a Milwaukee based graphic designer.
Forge22 - Retrowave, Vaporwave, Art Deco Travel and Steampunk joined Society6 on July 25, 2012.
Forge22 - Retrowave, Vaporwave, Art Deco Travel and Steampunk's Store
104 results
Filter