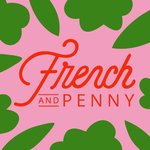 French & Penny
Hello, French and Penny is a design and illustration studio run by Siale Gilmour. Studio obsessions revolve around illustration, design and paper goods. It was exactly this obsession that provided the motivation to start my society6 shop. Siale Gilmour || French & Penny French & Penny joined Society6 on March 26, 2016
More
Hello,
French and Penny is a design and illustration studio run by Siale Gilmour.
Studio obsessions revolve around illustration, design and paper goods. It was exactly this obsession that provided the motivation to start my society6 shop.
Siale Gilmour || French & Penny
French & Penny joined Society6 on March 26, 2016.