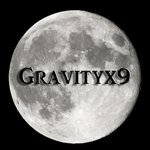 Gravityx9
Gx9Designs by Gravityx9 - A few of my favorite things to do is photo editing and photography, graphic designing and marketing my work. I enjoy creating designs from my photographs, collages, original art , some famous paintings and more. Stop by often to see my newest work ~ Please join me at one of these sites: Twenty20, Twitter, Tumbler, Instagram, Google+ and Facebook: Gravityx9 ~ Cheers from Las Vegas! Thank you for visiting my gallery! Gravityx9 joined Society6 on April 2, 2013
More
Gx9Designs by Gravityx9 - A few of my favorite things to do is photo editing and photography, graphic designing and marketing my work. I enjoy creating designs from my photographs, collages, original art , some famous paintings and more. Stop by often to see my newest work ~ Please join me at one of these sites: Twenty20, Twitter, Tumbler, Instagram, Google+ and Facebook: Gravityx9 ~ Cheers from Las Vegas!
Thank you for visiting my gallery!
Gravityx9 joined Society6 on April 2, 2013.