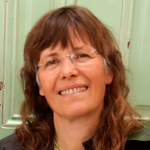 Helen Krayenhoff
I am an illustrator living and working in Oakland, California. My other job is co-owner of an organic plant nursery so I'm surrounded by the world of flora—both ornamental and edible. Check out my website: HelenKrayenhoff.com. I have a large portfolio of images. If you see something you like, I may be able to upload the art. Feel free to contact me through my website. Many thanks for stopping by! Helen Krayenhoff joined Society6 on March 9, 2015
More
I am an illustrator living and working in Oakland, California. My other job is co-owner of an organic plant nursery so I'm surrounded by the world of flora—both ornamental and edible.
Check out my website: HelenKrayenhoff.com. I have a large portfolio of images. If you see something you like, I may be able to upload the art. Feel free to contact me through my website. Many thanks for stopping by!
Helen Krayenhoff joined Society6 on March 9, 2015.