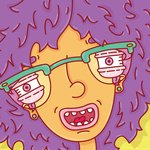 Molly Yllom Shop
I'm a dominican art director and illustrator based in Santo Domingo, Dominican Republic. Her visual style is cartoonish and surrealist. She studied Advertisement and Graphic Design in APEC University (Dominican Republic) and made an Art Direction Master in the Communication Faculty Blanquerna from Ramon Llul University (Barcelona). One of her biggest influences is the famous and unique painter Modigliani, who caused a big impact in her life and work with long necks and experimental anatomy. Other big influences are the 90's kids cartoons like: Two Stupid Dogs, Ed, Ed y Eddy, Hey Arnold and CatDog , algo some more recent cartoons like: Billy and Mandy and her favourite: The Marvellous Misadventures of Flapjack. Molly Yllom Shop joined Society6 on May 2, 2015
More
I'm a dominican art director and illustrator based in Santo Domingo, Dominican Republic.
Her visual style is cartoonish and surrealist. She studied Advertisement and Graphic Design in APEC University (Dominican Republic) and made an Art Direction Master in the Communication Faculty Blanquerna from Ramon Llul University (Barcelona).
One of her biggest influences is the famous and unique painter Modigliani, who caused a big impact in her life and work with long necks and experimental anatomy. Other big influences are the 90's kids cartoons like: Two Stupid Dogs, Ed, Ed y Eddy, Hey Arnold and CatDog , algo some more recent cartoons like: Billy and Mandy and her favourite: The Marvellous Misadventures of Flapjack.
Molly Yllom Shop joined Society6 on May 2, 2015.