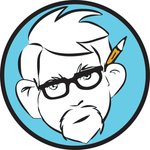 JEDArts by J. Eric Dunlap
Artist | Cartoonist | Illustrator | Graphic Designer Let me create something for you! #jedarts I have been an actor, director, playwright, visual merchandiser, and graphic designer. I have been drawing comics & super heroes, in some form, since high school and returned to the "drawing board" in 2012. Artwork posted in this store are my original creations and most can be classified as Fair Use/Parody and "Fan Art", based on characters from comics, books, TV and movies. Original works and creative content © and property of J. Eric Dunlap. JEDArts by J. Eric Dunlap joined Society6 on February 20, 2013
More
Artist | Cartoonist | Illustrator | Graphic Designer Let me create something for you! #jedarts
I have been an actor, director, playwright, visual merchandiser, and graphic designer. I have been drawing comics & super heroes, in some form, since high school and returned to the "drawing board" in 2012.
Artwork posted in this store are my original creations and most can be classified as Fair Use/Parody and "Fan Art", based on characters from comics, books, TV and movies. Original works and creative content © and property of J. Eric Dunlap.
JEDArts by J. Eric Dunlap joined Society6 on February 20, 2013.