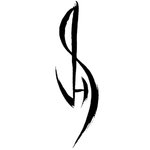 JonathanStephenHarris
Jonathan S. Harris originally from the UK but now resides in the US is an illustrator and designer specializing in tattoo designs and typeface design. He has created award winning tattoo flash and many of his tattoo designs can be found in tattoo shops all over the world. To date he has created over 300 fonts which can be found on TattooWoo.com, Dafont.com and FontSpace.com. He also has a thriving YouTube channel showcasing how to draw videos.. Infact you can watch some of his society6 designs being created right before your very eyes on YouTube... http://www.youtube.com/tattoowoo JonathanStephenHarris joined Society6 on March 4, 2014
More
Jonathan S. Harris originally from the UK but now resides in the US is an illustrator and designer specializing in tattoo designs and typeface design. He has created award winning tattoo flash and many of his tattoo designs can be found in tattoo shops all over the world.
To date he has created over 300 fonts which can be found on TattooWoo.com, Dafont.com and FontSpace.com. He also has a thriving YouTube channel showcasing how to draw videos.. Infact you can watch some of his society6 designs being created right before your very eyes on YouTube... http://www.youtube.com/tattoowoo
JonathanStephenHarris joined Society6 on March 4, 2014.