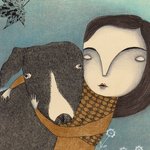 Judith Clay
I am a German mixed media artist and trained ceramic painter with a degree in comparative literature, working primarily in ink, pastel, collage, and colored pencil on drawing or watercolor paper. Creating pictures is my life, and keeps me sane. There is nothing more rewarding for me than getting lost on the page and story of a new drawing. My art work has been published in art magazines, school books, as a book cover, used in workshops for children, and shown in solo and group exhibits all over Europe. See my FB page for updates, events and happenings, or just stop by to say hello: http://www.facebook.com/judith.clay.50 And for a little visual biography, see my FB album "A Little Bit about Myself": https://www.facebook.com/media/set/?set=a.4123714945863.130874.1673062462&type=3 Judith Clay joined Society6 on June 14, 2011
More
I am a German mixed media artist and trained ceramic painter with a degree in comparative literature, working primarily in ink, pastel, collage, and colored pencil on drawing or watercolor paper. Creating pictures is my life, and keeps me sane. There is nothing more rewarding for me than getting lost on the page and story of a new drawing.
My art work has been published in art magazines, school books, as a book cover, used in workshops for children, and shown in solo and group exhibits all over Europe.
See my FB page for updates, events and happenings, or just stop by to say hello:
http://www.facebook.com/judith.clay.50
And for a little visual biography, see my FB album "A Little Bit about Myself": https://www.facebook.com/media/set/?set=a.4123714945863.130874.1673062462&type=3
Judith Clay joined Society6 on June 14, 2011.