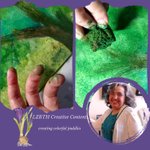 LZBTH Creative Content
Welcome! My name is Elizabeth & I am the founder. Let's connect: www.lzbthcreative.com/links I use colorful puddles to create painterly watercolor creations.
My Mission: To bring nature's restorative gifts into your space and your day with products designed around these creations.
I am so inspired by nature I moved my household to a wooded neighborhood backed up against a foothill with a nature preserve. I also love pops of color, just like nature does.
If you buy one of my products, thank you, and a favor? Remember to either email me (info@lzbthcreative.com) a picture of them or post it on Instagram with the tag @lzbthcreative or #lzbthcreative to get featured.
Read more
LZBTH Creative Content's Store
Filter