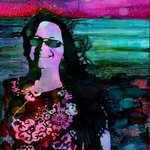 Marionette Taboniar
ALOHA from the beautiful, tropical island of Kauai! My name is Marionette and I am a full time artist and art instructor. I opened my studio/gallery "Painting Paradise" in Waimea Town in 2007 where I teach a variety of classes such as watercolors, acrylics, encaustics, silk painting, pastels, and more. I have been painting professionally for over 20 years, and my paintings can be found in private and public collections all around the world! I am excited to say that five of my paintings are now part of the decor at the Grand Hyatt Kauai Resort and Spa in Poipu at the Ilima Terrace Restaurant, and my painting "Ti Leaves and Palm Trees" was featured in The Artists Magazine's November 2013 issue just inside the front cover. I have also done some design work for Victoria's Secret, Designs Studios Honolulu, Kauai Coffee, Aunty Lilikoi, Hawaiian Pineapple Company, Mele Kalikimaka Tshirts, and more. I am a member of Women Artists of Kauai, Kauai Society of Artists, Garden Island Arts Council and the Kauai Made program. For more information, please visit my website at www.kauai-artist.blogspot.com. Mahalo and have a warm and beautiful day! Marionette For more information about Marionette, Painting Paradise, or Marionette's Art, please visit these pages: ART CLASSES: www.kauaiartclasses.blogspot.com (Schedule and info on the art classes Marionette teaches on the island of Kauai.) ETSY: www.kauaiartist.etsy.com (Originals and prints of Marionette's art available directly from the artist.) PINTEREST: http://pinterest.com/kauaiartlover/ (Marionette's online pinboard of what interests her.) TWITTER: http://twitter.com/kauaiartist (Latest tweets from Marionette containing info on upcoming events and latest art offerings.) FACEBOOK: http://www.facebook.com/pages/Waimea-HI/Painting-Paradise/104239389439 (Photos of actual students painting in Marionette's classs and news from Marionette.) YOUTUBE: http://www.youtube.com/user/PaintingParadise (Art instruction videos by Marionette.) ONLINE ART INSTRUCTION: http://kauaiartinstruction.blogspot.com/ (Art instruction articles and videos by Marionette) Marionette Taboniar joined Society6 on May 22, 2015
More
ALOHA from the beautiful, tropical island of Kauai! My name is Marionette and I am a full time artist and art instructor. I opened my studio/gallery "Painting Paradise" in Waimea Town in 2007 where I teach a variety of classes such as watercolors, acrylics, encaustics, silk painting, pastels, and more. I have been painting professionally for over 20 years, and my paintings can be found in private and public collections all around the world!
I am excited to say that five of my paintings are now part of the decor at the Grand Hyatt Kauai Resort and Spa in Poipu at the Ilima Terrace Restaurant, and my painting "Ti Leaves and Palm Trees" was featured in The Artists Magazine's November 2013 issue just inside the front cover. I have also done some design work for Victoria's Secret, Designs Studios Honolulu, Kauai Coffee, Aunty Lilikoi, Hawaiian Pineapple Company, Mele Kalikimaka Tshirts, and more.
I am a member of Women Artists of Kauai, Kauai Society of Artists, Garden Island Arts Council and the Kauai Made program. For more information, please visit my website at www.kauai-artist.blogspot.com.
Mahalo and have a warm and beautiful day! Marionette
For more information about Marionette, Painting Paradise, or Marionette's Art, please visit these pages:
ART CLASSES: www.kauaiartclasses.blogspot.com (Schedule and info on the art classes Marionette teaches on the island of Kauai.)
ETSY: www.kauaiartist.etsy.com (Originals and prints of Marionette's art available directly from the artist.)
PINTEREST: http://pinterest.com/kauaiartlover/ (Marionette's online pinboard of what interests her.)
TWITTER: http://twitter.com/kauaiartist (Latest tweets from Marionette containing info on upcoming events and latest art offerings.)
FACEBOOK: http://www.facebook.com/pages/Waimea-HI/Painting-Paradise/104239389439 (Photos of actual students painting in Marionette's classs and news from Marionette.)
YOUTUBE: http://www.youtube.com/user/PaintingParadise (Art instruction videos by Marionette.)
ONLINE ART INSTRUCTION: http://kauaiartinstruction.blogspot.com/ (Art instruction articles and videos by Marionette)
Marionette Taboniar joined Society6 on May 22, 2015.