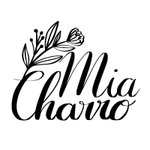 Mia Charro
Hi Shinny Happy People! My name is Mia Charro and I love creative work. My illustrations typically incorporates bright colors, watercolors, empowering typography, digital art and a looot of floral elements. Mother Nature is my source of inspiration: the starry sky, the feeling of the grass under my feet, walking through the woods, practicing yoga, the sound of the birds, the ocean... Life is an amazing adventure! My creations are usually whimsical and quite often exhibits my love for the nature, the unusual, the wild things and the ancient wisdom. Portfolio: www.miacharro.com *** Social: http://instagram.com/miacharro https://www.facebook.com/miacharrocreations https://twitter.com/miacharro Contact: miacharro@gmail.com Mia Charro joined Society6 on October 9, 2013
More
Hi Shinny Happy People! My name is Mia Charro and I love creative work. My illustrations typically incorporates bright colors, watercolors, empowering typography, digital art and a looot of floral elements.
Mother Nature is my source of inspiration: the starry sky, the feeling of the grass under my feet, walking through the woods, practicing yoga, the sound of the birds, the ocean... Life is an amazing adventure!
My creations are usually whimsical and quite often exhibits my love for the nature, the unusual, the wild things and the ancient wisdom.
Portfolio: www.miacharro.com
---
Social: http://instagram.com/miacharro https://www.facebook.com/miacharrocreations https://twitter.com/miacharro
Contact: miacharro@gmail.com
Mia Charro joined Society6 on October 9, 2013.