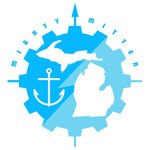 The Mighty Mitten - Great Lakes Art
Original vintage style travel prints, historic maps, and other original Great Lakes themed art & design. The Mighty Mitten celebrates all things Michigan, and showcases some of the best of what the "Mitten State" has to offer. Spread the PeninsuLOVE! The Mighty Mitten - Great Lakes Art joined Society6 on June 29, 2011
More
Original vintage style travel prints, historic maps, and other original Great Lakes themed art & design. The Mighty Mitten celebrates all things Michigan, and showcases some of the best of what the "Mitten State" has to offer.
Spread the PeninsuLOVE!
The Mighty Mitten - Great Lakes Art joined Society6 on June 29, 2011.
The Mighty Mitten - Great Lakes Art's Store
368 results
Filter