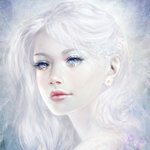 milyKnight
Since 2007 I have been actively working with digital media, with a focus on digital painting, concept art and illustration. I have great passion for design and I always seek to represent beauty in my art, in all its various forms. I am currently a freelance digital artist, working on concept art, book cover paintings and illustrations for children's games. My tools of trade are Photoshop and Paint Tool SAI. Website: http://milyknight.weebly.com Society6: http://society6.com/milyknight CGsociety: http://milyknight.cgsociety.org Zazzle: http://www.zazzle.com/milyknight*/ DeviantART: http://milyknight.deviantart.com Pixiv: http://www.pixiv.net/member.php?id=1066081 ArtStation: http://www.artstation.com/artist/milyknight Instagram: https://www.instagram.com/milyknight_art/ milyKnight joined Society6 on March 31, 2014
More
Since 2007 I have been actively working with digital media, with a focus on digital painting, concept art and illustration. I have great passion for design and I always seek to represent beauty in my art, in all its various forms.
I am currently a freelance digital artist, working on concept art, book cover paintings and illustrations for children's games.
My tools of trade are Photoshop and Paint Tool SAI.
Website: http://milyknight.weebly.com
Society6: http://society6.com/milyknight CGsociety: http://milyknight.cgsociety.org Zazzle: http://www.zazzle.com/milyknight*/ DeviantART: http://milyknight.deviantart.com Pixiv: http://www.pixiv.net/member.php?id=1066081 ArtStation: http://www.artstation.com/artist/milyknight Instagram: https://www.instagram.com/milyknight_art/
milyKnight joined Society6 on March 31, 2014.