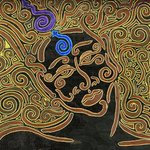 MiouoArt
Miouo is a long time dabbler in visual arts who has made her full on entry into the Phoenix, AZ arts scene. Her work explores the inner being and energies with intricate designs to express the flows within us. A seasoned local spoken word performer and arts and music supporter in the Valley of the Sun, Miouo chose 2011 to venture into displaying her paintings to the public. As a member of the Conspire worker owned artist collective she participated in group shows in the gallery space as well as being a part of other group shows around the metropolitan area including having works in three shows for the 2011 Art Detour in downtown Phoenix. Miouo is now branching out to include her works in arts and literary magazines nationwide to broaden her horizons and reach a greater art audience. www.facebook.com/MiouoArt MiouoArt joined Society6 on May 21, 2013
More
Miouo is a long time dabbler in visual arts who has made her full on entry into the Phoenix, AZ arts scene. Her work explores the inner being and energies with intricate designs to express the flows within us.
A seasoned local spoken word performer and arts and music supporter in the Valley of the Sun, Miouo chose 2011 to venture into displaying her paintings to the public. As a member of the Conspire worker owned artist collective she participated in group shows in the gallery space as well as being a part of other group shows around the metropolitan area including having works in three shows for the 2011 Art Detour in downtown Phoenix. Miouo is now branching out to include her works in arts and literary magazines nationwide to broaden her horizons and reach a greater art audience. www.facebook.com/MiouoArt
MiouoArt joined Society6 on May 21, 2013.