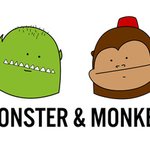 Monster&Monkey
Monster&Monkey is a website filled with comics, games and films. We create our own reviews on the three, as well as filming and producing short films. Look out for the comic "The Friday Fact" as well. You'll learn something new!
Visit monsterandmonkey.com for more information and awesomeness!
Read more
Monster&Monkey's Store
Filter
You are currently on society6.com.