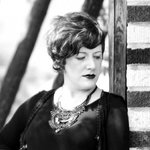 Morgan G Farris
I'm Morgan G Farris—one of those all-around creative types—a writer, a musician and an artist of sorts. On any given day I could be found writing a novel, writing a song, painting, or designing at my computer. The art you will find on this page is just for the sake of the hobby I indulge from time to time. I by no means consider myself an actual artist. It's really more like, "I'd like have something like this for my house..." Then I make it and think maybe you'd like to have it, too. That's all. Enjoy! For more information on what I do, visit my website: http://www.MorganGFarris.com Morgan G Farris joined Society6 on November 6, 2016
More
I'm Morgan G Farris—one of those all-around creative types—a writer, a musician and an artist of sorts. On any given day I could be found writing a novel, writing a song, painting, or designing at my computer. The art you will find on this page is just for the sake of the hobby I indulge from time to time. I by no means consider myself an actual artist. It's really more like, "I'd like have something like this for my house..." Then I make it and think maybe you'd like to have it, too. That's all. Enjoy!
For more information on what I do, visit my website: http://www.MorganGFarris.com
Morgan G Farris joined Society6 on November 6, 2016.