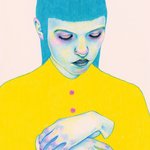 Natalie Foss
"Natalie Foss is a freelance illustrator/artist from Oslo, Norway, where she currently lives and works. She studied art at Strykejernet School of Art in Oslo, and graduated with a Bachelor degree in Illustration from Kingston University in 2013. Natalie works in different fields, primarily with coloured pencils on paper, focusing on bold colours and emotions. In her drawings she mixes the flat, almost graphic with the 3-dimensional and detailed - often portraying alienated human beings adorned by 60s/70s inspired patterns and motifs." Contact: natfoss@gmail.com Website: www.nataliefoss.co.uk Blog: http://natalieff.tumblr.com Instagram: @natillustration Facebook: https://www.facebook.com/nataliefossillustration :-) Natalie Foss joined Society6 on October 31, 2013
More
"Natalie Foss is a freelance illustrator/artist from Oslo, Norway, where she currently lives and works. She studied art at Strykejernet School of Art in Oslo, and graduated with a Bachelor degree in Illustration from Kingston University in 2013. Natalie works in different fields, primarily with coloured pencils on paper, focusing on bold colours and emotions. In her drawings she mixes the flat, almost graphic with the 3-dimensional and detailed - often portraying alienated human beings adorned by 60s/70s inspired patterns and motifs."
Contact: natfoss@gmail.com
Website: www.nataliefoss.co.uk Blog: http://natalieff.tumblr.com Instagram: @natillustration Facebook: https://www.facebook.com/nataliefossillustration
:-)
Natalie Foss joined Society6 on October 31, 2013.