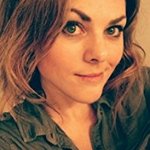 Nature Magick
I'm a science fiction author, singer, graphic designer, and photographer. I love to tell my stories through fiction writing, photography, artwork, and music - usually all mediums at once. If you like Nature Magick, please check out my other Society6 shops! :) Simple Luxe - Palm Leaves, Stripes, Dots, Gold and Rose Gold, Patterns and more! http://www.society6.com/followmeinstead Cascadia - Original nature photography from my travels and adventure inspiration artwork. http://www.society6.com/cascadia http://www.society6.com/autumnkalquist The art in this store is inspired by my bestselling Fractured Era book series as I write the rest of it and record songs from the books. I try to create from my heart, so it means a lot when I see a purchase in my shop. :) So if you've purchased something from me, thank you! I had fun creating all of it, and I get excited just thinking about how you'll use the art in your life and what *you'll* create with it to make it uniquely yours. A relaxing boho bedroom? A new outfit? An inspiring home office? I'd love to see how you're enjoying the art in your life. Please share your Nature Magick art buys with me: Instagram: instagram.com/autumnkalquist/ Twitter: twitter.com/nature_magick E-mail: sales (@) naturemagick.com You can check out my USA Today Bestselling Fractured Era series and music from the books at my website: http://www.AutumnKalquist.com Nature Magick joined Society6 on December 27, 2016
More
I'm a science fiction author, singer, graphic designer, and photographer. I love to tell my stories through fiction writing, photography, artwork, and music - usually all mediums at once.
If you like Nature Magick, please check out my other Society6 shops! :)
Simple Luxe - Palm Leaves, Stripes, Dots, Gold and Rose Gold, Patterns and more! http://www.society6.com/followmeinstead
Cascadia - Original nature photography from my travels and adventure inspiration artwork. http://www.society6.com/cascadia
http://www.society6.com/autumnkalquist The art in this store is inspired by my bestselling Fractured Era book series as I write the rest of it and record songs from the books.
I try to create from my heart, so it means a lot when I see a purchase in my shop. :) So if you've purchased something from me, thank you!
I had fun creating all of it, and I get excited just thinking about how you'll use the art in your life and what you'll create with it to make it uniquely yours.
A relaxing boho bedroom? A new outfit? An inspiring home office? I'd love to see how you're enjoying the art in your life. Please share your Nature Magick art buys with me:
Instagram: instagram.com/autumnkalquist/ Twitter: twitter.com/nature_magick E-mail: sales (@) naturemagick.com
You can check out my USA Today Bestselling Fractured Era series and music from the books at my website: http://www.AutumnKalquist.com
Nature Magick joined Society6 on December 27, 2016.