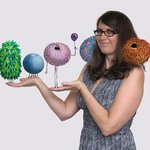 Poofy Emporium
I've been drawing since childhood and enjoyed a brief career as an Animator. More recently, I've been creating websites. The art on this site reflects my passion for creating work offline. Much of the work has been created while voraciously listening to historical audiobooks. I will happily chat with you about World War 1 any time. https://poofyemporium.com/ https://www.instagram.com/poofy_emporium/ https://www.facebook.com/PoofyEmporium/ https://twitter.com/poofyemporium https://www.redbubble.com/people/poofyemporium Poofy Emporium joined Society6 on August 29, 2016
More
I've been drawing since childhood and enjoyed a brief career as an Animator. More recently, I've been creating websites.
The art on this site reflects my passion for creating work offline.
Much of the work has been created while voraciously listening to historical audiobooks. I will happily chat with you about World War 1 any time.
https://poofyemporium.com/ https://www.instagram.com/poofy_emporium/ https://www.facebook.com/PoofyEmporium/ https://twitter.com/poofyemporium https://www.redbubble.com/people/poofyemporium
Poofy Emporium joined Society6 on August 29, 2016.