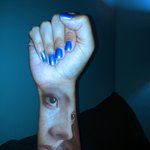 Sir P & Lady J
Hello, In the process of transforming a blank canvas into something beautiful, I myself become transformed. I enjoy painting anything I find as beautiful which most often happens to be nature. My childhood spent in a small rural town in Vermont filled me with a love for nature. Often times I would go into the forest and observe the way nature came to life and imagine a whole new world with endless possibilities. It was in those still moments that I learned beauty can exist where we least expect it and in the smallest of forms. My art strives to capture not just the natural world but the way I feel about it. - The Painting Empress https://www.facebook.com/pages/Nickol-Marie/208149869365482 http://nickolmarie.tumblr.com/ http://instagram.com/sirpandladyj http://instagram.com/_nickolmarie http://500px.com/nickol_marie http://www.tpeart.com/ Sir P & Lady J joined Society6 on September 10, 2011
More
Hello,
In the process of transforming a blank canvas into something beautiful, I myself become transformed. I enjoy painting anything I find as beautiful which most often happens to be nature. My childhood spent in a small rural town in Vermont filled me with a love for nature. Often times I would go into the forest and observe the way nature came to life and imagine a whole new world with endless possibilities. It was in those still moments that I learned beauty can exist where we least expect it and in the smallest of forms. My art strives to capture not just the natural world but the way I feel about it. - The Painting Empress
https://www.facebook.com/pages/Nickol-Marie/208149869365482
http://nickolmarie.tumblr.com/
http://instagram.com/sirpandladyj
http://instagram.com/_nickolmarie
http://500px.com/nickol_marie
http://www.tpeart.com/
Sir P & Lady J joined Society6 on September 10, 2011.