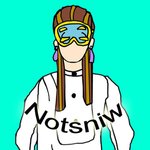 Notsniw
Hello I'm Wins of Notsniw Art. I live in Los Angeles and Berlin. My illustrations reflect visions Pop Culture Fashion and whimsical Animals dressed in human clothing. I also enjoy watercolor and using cosmetics beauty products to create. I often times love to see how my products are being used, so please share your Notsniw products on Instagram using #notsniwart, also for a chance to be featured on my profile. Email: hello@notsniw.com Instagram: @notsniwart Website: notsniw.com View collections: https://society6.com/notsniw/collection Notsniw joined Society6 on February 22, 2011
More
Hello I'm Wins of Notsniw Art. I live in Los Angeles and Berlin. My illustrations reflect visions Pop Culture Fashion and whimsical Animals dressed in human clothing. I also enjoy watercolor and using cosmetics beauty products to create.
I often times love to see how my products are being used, so please share your Notsniw products on Instagram using #notsniwart, also for a chance to be featured on my profile.
Email: hello@notsniw.com Instagram: @notsniwart Website: notsniw.com
View collections: https://society6.com/notsniw/collection
Notsniw joined Society6 on February 22, 2011.