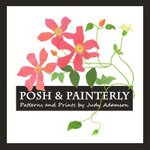 Posh & Painterly
Hello - I'm Judy Adamson, a lifelong painter and illustrator with a passion for pattern-making that sprang from studying Interior Design thirty years ago. My 'Posh & Painterly' pattern collections include 'painterly' florals, reflecting my love of my own tiny garden, as well as some patterns with Oriental influences – hence 'Posh & Painterly'. I aim to create patterns that will enhance either a modern or a traditional setting, patterns that are timeless but with an up-to-the-minute appeal. Posh & Painterly joined Society6 on May 1, 2014
More
Hello - I'm Judy Adamson, a lifelong painter and illustrator with a passion for pattern-making that sprang from studying Interior Design thirty years ago.
My 'Posh & Painterly' pattern collections include 'painterly' florals, reflecting my love of my own tiny garden, as well as some patterns with Oriental influences – hence 'Posh & Painterly'.
I aim to create patterns that will enhance either a modern or a traditional setting, patterns that are timeless but with an up-to-the-minute appeal.
Posh & Painterly joined Society6 on May 1, 2014.