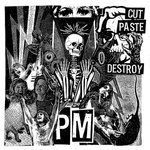 Print Mafia
In 1997, Print Mafia came into reality. Producing a huge catalog of gig posters in diverse genres, Print Mafia has made stuff. And made more stuff. And made stuff from other stuff. From The Melvins to Marilyn Manson, from Jack White to John Mayer. Each individual poster, and this is a vital rule of Print Mafia's work, is done by the hands of Jim or Connie and done with a personal creative investment to the particular event. Print Mafia admittedly has their own style: distorted, gruff, messy, and very much alive – but strive to make, for example, a Bruce Springsteen poster look like a Bruce Springsteen poster by Print Mafia, rather than a Print Mafia poster that might be for Bruce Springsteen. Still rooted in Bowling Green, KY and still just the two of them as Print Mafia—Jim and Connie are surrounded by an epic group of families and friends that support (and often encourage) their pop culture obsessions with music, movies, television, cool junk, and especially the influences from their childhood in all of those fields. Classic, good pop culture is classic for a reason. Visit them at printmafia.net. Print Mafia joined Society6 on February 5, 2012
More
In 1997, Print Mafia came into reality. Producing a huge catalog of gig posters in diverse genres, Print Mafia has made stuff. And made more stuff. And made stuff from other stuff. From The Melvins to Marilyn Manson, from Jack White to John Mayer. Each individual poster, and this is a vital rule of Print Mafia's work, is done by the hands of Jim or Connie and done with a personal creative investment to the particular event. Print Mafia admittedly has their own style: distorted, gruff, messy, and very much alive – but strive to make, for example, a Bruce Springsteen poster look like a Bruce Springsteen poster by Print Mafia, rather than a Print Mafia poster that might be for Bruce Springsteen.
Still rooted in Bowling Green, KY and still just the two of them as Print Mafia—Jim and Connie are surrounded by an epic group of families and friends that support (and often encourage) their pop culture obsessions with music, movies, television, cool junk, and especially the influences from their childhood in all of those fields. Classic, good pop culture is classic for a reason. Visit them at printmafia.net.
Print Mafia joined Society6 on February 5, 2012.