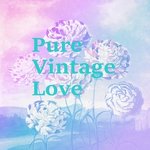 PureVintageLove
Showcasing classic vintage photos & artwork for the modern buyer. Let us not forget the greats! PureVintageLove also offers re-worked versions of the great. Brighter colors, different color schemes, and completely re-worked pieces. PureVintageLove also offeres 100% original pieces that go along with the vintage theme and spirit of the shop. PureVintageLove joined Society6 on September 3, 2014
More
Showcasing classic vintage photos & artwork for the modern buyer. Let us not forget the greats!
PureVintageLove also offers re-worked versions of the great. Brighter colors, different color schemes, and completely re-worked pieces.
PureVintageLove also offeres 100% original pieces that go along with the vintage theme and spirit of the shop.
PureVintageLove joined Society6 on September 3, 2014.