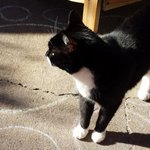 Rainy Studios
Thank you for stopping in my store! Keep checking back for new art and items! If you do make a purchase, feel free to tag me @SamAburime on Twitter or Rainy Studios on facebook! I'd love to see what you got! www.rainy-studios.com https://twitter.com/SamAburime https://www.facebook.com/RainyStudios/ Rainy Studios joined Society6 on October 2, 2015
More
Thank you for stopping in my store! Keep checking back for new art and items!
If you do make a purchase, feel free to tag me @SamAburime on Twitter or Rainy Studios on facebook! I'd love to see what you got!
www.rainy-studios.com
https://twitter.com/SamAburime
https://www.facebook.com/RainyStudios/
Rainy Studios joined Society6 on October 2, 2015.