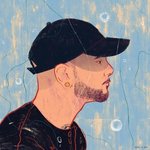 Raz Latif
Raz Latif is a Toronto based freelance illustrator and graduate of OCAD University. He's had the pleasure of working on editorial, book, and advertising commissions, as well as exhibited in many group shows throughout North America. Chosen: American Illustration 36 Archive. Semi-Finalist: Adobe Design Achievement Award Runner-up: Creative Quarterly 43 Press: Illustration Age Supersonic Art BOOOOOOOM NOW Magazine Raz Latif joined Society6 on November 16, 2011
More
Raz Latif is a Toronto based freelance illustrator and graduate of OCAD University. He's had the pleasure of working on editorial, book, and advertising commissions, as well as exhibited in many group shows throughout North America.
Chosen: American Illustration 36 Archive. Semi-Finalist: Adobe Design Achievement Award Runner-up: Creative Quarterly 43
Press: Illustration Age Supersonic Art BOOOOOOOM NOW Magazine
Raz Latif joined Society6 on November 16, 2011.
Raz Latif's Store
7 result
Filter