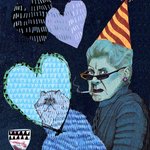 Rebecca Hendin
Rebecca Hendin is an illustrator, artist, designer, and animator. She is also a syndicated editorial cartoonist for Universal Uclick, creating weekly comics for GoComics and Daily Kos. She combines hand-made and digital techniques to make colourful, slightly odd, and often highly detailed work for a variety of platforms. She has an MA in Communication Design from Central Saint Martins (2014), and BA Hons Graphic Design, also from Saint Martins (2010). Selected clients: Foyles Bookshop, Dance Umbrella, TakeOff Studios, VICE Magazine, Politico, Buzzfeed, Cooperatives UK, AU Magazine, Island Records, WPP, Estee Lauder, Eurostar, Passing Clouds. Illustrations used for Edinburgh Fringe, MTV Presents; in publications including the Economist, The Guardian, The Telegraph, The Alarmist; on New Era Caps. Her artwork loomed over Charing Cross Road at large-scale of 29 metres x 8.5 metres covering the entire former Central Saint Martins building whilst under renovation to become the new Foyles Bookshop, from May 2013 - May 2014. Her illustration has been awarded by the Society of Illustrators Los Angeles (2015), The Association of Illustrators (2013 and 2014) and 3x3 Magazine Annual (2013 and 2014). Her video/animation work received commendation from Adam Buxton's BUG Festival + Sony Music (2013) and was selected for the Serco Prize for Illustration (London Transport Museum, 2014). Website: http://www.rebeccahendin.com Twitter: @hendinarts Rebecca Hendin joined Society6 on February 14, 2012
More
Rebecca Hendin is an illustrator, artist, designer, and animator. She is also a syndicated editorial cartoonist for Universal Uclick, creating weekly comics for GoComics and Daily Kos. She combines hand-made and digital techniques to make colourful, slightly odd, and often highly detailed work for a variety of platforms. She has an MA in Communication Design from Central Saint Martins (2014), and BA Hons Graphic Design, also from Saint Martins (2010).
Selected clients: Foyles Bookshop, Dance Umbrella, TakeOff Studios, VICE Magazine, Politico, Buzzfeed, Cooperatives UK, AU Magazine, Island Records, WPP, Estee Lauder, Eurostar, Passing Clouds. Illustrations used for Edinburgh Fringe, MTV Presents; in publications including the Economist, The Guardian, The Telegraph, The Alarmist; on New Era Caps. Her artwork loomed over Charing Cross Road at large-scale of 29 metres x 8.5 metres covering the entire former Central Saint Martins building whilst under renovation to become the new Foyles Bookshop, from May 2013 - May 2014. Her illustration has been awarded by the Society of Illustrators Los Angeles (2015), The Association of Illustrators (2013 and 2014) and 3x3 Magazine Annual (2013 and 2014). Her video/animation work received commendation from Adam Buxton's BUG Festival + Sony Music (2013) and was selected for the Serco Prize for Illustration (London Transport Museum, 2014).
Website: http://www.rebeccahendin.com
Twitter: @hendinarts
Rebecca Hendin joined Society6 on February 14, 2012.