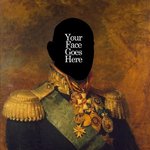 replaceface
George Dawe was an English portrait artist who painted 329 portraits of Russian generals active during Napoleon's invasion of Russia for the Military Gallery of the Winter Palace, Saint Petersburg, Russia. I'm using digital copies of these paintings as a basis for my own work which involves incorporating celebrities into the paintings using photoshop. http://replaceface.tumblr.com/ http://facebook.com/replaceface For you own portrait contact: replacefaceportraits@gmail.com replaceface joined Society6 on December 5, 2012
More
George Dawe was an English portrait artist who painted 329 portraits of Russian generals active during Napoleon's invasion of Russia for the Military Gallery of the Winter Palace, Saint Petersburg, Russia.
I'm using digital copies of these paintings as a basis for my own work which involves incorporating celebrities into the paintings using photoshop.
http://replaceface.tumblr.com/ http://facebook.com/replaceface
For you own portrait contact: replacefaceportraits@gmail.com
replaceface joined Society6 on December 5, 2012.