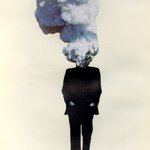 Richard Vergez
Richard Vergez is a Cuban-American visual artist. He was born in Philadelphia, PA and currently works and resides in Brooklyn, NY. His background in graphic design and audio/visual collaboration is reflected though his hand-made collaged works on paper and mixed media. Imagery which combines both human and technological elements relates to ideas surrounding an ever-evolving modern identity. His work has been featured at No Romance Galleries in TriBeCa, Chicago Urban Arts Society and Kids of Dada in London; as well as numerous blogs and international publications such as PluzUltra in Argentina, Mekanik Copulaire from France, Upper Playground and Stylesight in the US. His work is published this Summer in a new book by Barcelona based publishing house Index Book, called CUT OUT FOR COLLAGE. http://www.flickr.com/photos/richardvergez https://www.facebook.com/richardvergezcollage Richard Vergez joined Society6 on July 7, 2011
More
Richard Vergez is a Cuban-American visual artist. He was born in Philadelphia, PA and currently works and resides in Brooklyn, NY. His background in graphic design and audio/visual collaboration is reflected though his hand-made collaged works on paper and mixed media. Imagery which combines both human and technological elements relates to ideas surrounding an ever-evolving modern identity.
His work has been featured at No Romance Galleries in TriBeCa, Chicago Urban Arts Society and Kids of Dada in London; as well as numerous blogs and international publications such as PluzUltra in Argentina, Mekanik Copulaire from France, Upper Playground and Stylesight in the US. His work is published this Summer in a new book by Barcelona based publishing house Index Book, called CUT OUT FOR COLLAGE.
http://www.flickr.com/photos/richardvergez https://www.facebook.com/richardvergezcollage
Richard Vergez joined Society6 on July 7, 2011.