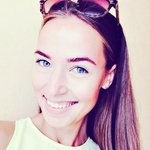 ritalapa
Labas, hi and bonjour! I am Rita Lapaite, a Lithuanian-born graphic designer and artist based in Vilnius. I have a deep passion for minimalism, urban art and culture. I love when my work brings many kinds of communication alive. Anytime I go somewhere, any place I visit, there is always a graphic media in the form of photos or written language. For me it's very important to communicate a message right - no matter to who: whole world or just one person. ritalapa joined Society6 on September 21, 2014
More
Labas, hi and bonjour!
I am Rita Lapaite, a Lithuanian-born graphic designer and artist based in Vilnius. I have a deep passion for minimalism, urban art and culture. I love when my work brings many kinds of communication alive. Anytime I go somewhere, any place I visit, there is always a graphic media in the form of photos or written language. For me it's very important to communicate a message right - no matter to who: whole world or just one person.
ritalapa joined Society6 on September 21, 2014.