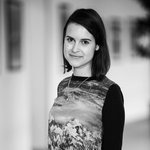 Rose+Wolf
I'm a 27 year old self-taught illustrator from Cornwall currently nesting in Germany. I'm inspired by myths, folklore, heroines, beasties, natural history, anatomy, Victorian and Medieval illustration, tattoo flash and every shade of black and white. I recreate my strange little daydreams in pen and ink. Questions? Commissions? You can email me at: rosie.hendry[at]hotmail.co.uk Are you on Instagram? Find me: @rosiehendry Party with me on Pinterest: RosieHendry Rose+Wolf joined Society6 on January 27, 2015
More
I'm a 27 year old self-taught illustrator from Cornwall currently nesting in Germany.
I'm inspired by myths, folklore, heroines, beasties, natural history, anatomy, Victorian and Medieval illustration, tattoo flash and every shade of black and white. I recreate my strange little daydreams in pen and ink.
Questions? Commissions? You can email me at: rosie.hendry[at]hotmail.co.uk
Are you on Instagram? Find me: @rosiehendry
Party with me on Pinterest: RosieHendry
Rose+Wolf joined Society6 on January 27, 2015.
Rose+Wolf's Store
11 results
Filter