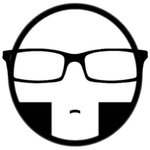 Sam Sinister
I'm the former front man for New Castle, PA Oi! band Dead City Dealers. I also recently had my own weekly 2-hour program on the now defunct wherewolfradio.com, entitled "The Shit Parade, with Sam Sinister". Lately I've just been sitting around at home in my underwear, watching internet porn.
I've been writing music for a good while, and have done time in various bands, including Dead City Dealers, Bob Sagget & the FullHouse, The Disliked, The RUNS, and The Reversatiles.
I also have an ongoing solo project that goes by various contrived names. The one that's stuck the most so far is "Sam Sinister and the Plastic Sinister Band".
---
Sam Sinister (solo), a.k.a. "Sam Sinister and the Plastic Sinister Band" - vocalist, songwriter, guitar, bass, kazoo, programming, aux percussion (2000-present)
The Runs - co-vocalist, songwriter (2002-2003) The Reversatiles - co-vocalist, songwriter (2003-2004) Bob Sagget & the FullHouse - vocalist/frontman, songwriter (2005) The Disliked - left guitar, backing vocals, songwriter (2006-2007) Dead City Dealers - vocalist/frontman, songwriter (2007-2011) Unnamed band (working title: "The Hole Naturals") - guitarist (2010)
http://samsinister.blogspot.com/ https://www.facebook.com/plasticsinisterband http://www.reverbnation.com/samsinisterandtheplasticsinisterband http://www.youtube.com/user/STSlocal724 http://soundcloud.com/samsinister http://samsinister.bandcamp.com
Read more
Sam Sinister's Store
Filter