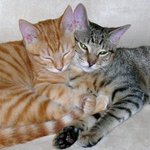 Shannon Martinson
Hi! My name is Shannon. I live in Texas with my two kitties, Peanut and Cashew. I'm a closed captioner for television, and do various arts and crafts things as a way to relax. I thought some of the items I make would look really cool on things like bags and shirts and other items, so I thought I'd try uploading them here. I do a variety of arts and crafts, but most of the items I have on here are monoprints, created using a gel printing plate and acrylic paints. I love the randomness of these prints -- try as I might, I can never predict exactly what they're going to look like, there are too many variables -- from the thickness of the paint, to texture left on my brayer and stencils from previous prints, to wrinkles in the paper if I'm using thinner papers, to inevitable human error of not getting things lined up exactly like I meant to. You can find me on Instagram: http://www.instagram.com/healthyhappyshannon Or follow me on Pinterest: http://www.pinterest.com/shannonm816/ Shannon Martinson joined Society6 on October 3, 2015
More
Hi! My name is Shannon. I live in Texas with my two kitties, Peanut and Cashew. I'm a closed captioner for television, and do various arts and crafts things as a way to relax. I thought some of the items I make would look really cool on things like bags and shirts and other items, so I thought I'd try uploading them here.
I do a variety of arts and crafts, but most of the items I have on here are monoprints, created using a gel printing plate and acrylic paints. I love the randomness of these prints -- try as I might, I can never predict exactly what they're going to look like, there are too many variables -- from the thickness of the paint, to texture left on my brayer and stencils from previous prints, to wrinkles in the paper if I'm using thinner papers, to inevitable human error of not getting things lined up exactly like I meant to.
You can find me on Instagram: http://www.instagram.com/healthyhappyshannon Or follow me on Pinterest: http://www.pinterest.com/shannonm816/
Shannon Martinson joined Society6 on October 3, 2015.