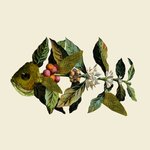 Shayla Fish
When I create these collages I first play around with a variety of vintage and/or scientific illustrations. I worry more about composition;I consider myself a formalist in the art world, so manipulating images is a lot more tedious than one would think. I typically work more towards making otherworldly animals, my own curiosity cabinets and anthropomorphic things. I'm on Etsy as well. You can find pins, postcards, natural wooden brooches, stickers and more! www.shaylafish.etsy.com If you would like to see one of these collages on a mug, pillow, etc., but don't see it, message me at shaylafish@gmail.com and I can make it available for you. Shayla Fish joined Society6 on October 12, 2015
More
When I create these collages I first play around with a variety of vintage and/or scientific illustrations.
I worry more about composition;I consider myself a formalist in the art world, so manipulating images is a lot more tedious than one would think. I typically work more towards making otherworldly animals, my own curiosity cabinets and anthropomorphic things.
I'm on Etsy as well. You can find pins, postcards, natural wooden brooches, stickers and more!
www.shaylafish.etsy.com
If you would like to see one of these collages on a mug, pillow, etc., but don't see it, message me at shaylafish@gmail.com and I can make it available for you.
Shayla Fish joined Society6 on October 12, 2015.