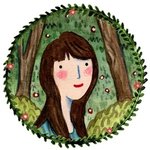 Sophie Corrigan
My name is Sophie Corrigan and I live in a little sweet shop in the UK. I'm a freelance illustrator with a first-class Illustration degree from the University of Central Lancashire, and am currently studying for my Masters Degree in Children's Book Illustration. I have produced work for a number of lovely clients, and these include ~ Tesco Magazine, Hallmark Cards, Ohh Deer, Jellycat, Healthy Planet, Felt Studios, Digitas Health LifeBrands, Boomf, Mindapples and CardNest. My work has also been stocked by John Lewis, Paperchase, Urban Outfitters, Hot Topic, Topshop, Tesco, SOMA Gallery, Yard Gallery and ASOS! One day I'd like to be a children's book illustrator, but for now, you might find me drawing, painting, blogging, making cute things from wool, watching nature shows, or hanging out with my pet axolotls and cockatiel. If you have any questions, don't hesitate to get in touch! I'd love to hear from you. Soph x Sophie Corrigan joined Society6 on April 23, 2012
More
My name is Sophie Corrigan and I live in a little sweet shop in the UK. I'm a freelance illustrator with a first-class Illustration degree from the University of Central Lancashire, and am currently studying for my Masters Degree in Children's Book Illustration.
I have produced work for a number of lovely clients, and these include ~ Tesco Magazine, Hallmark Cards, Ohh Deer, Jellycat, Healthy Planet, Felt Studios, Digitas Health LifeBrands, Boomf, Mindapples and CardNest. My work has also been stocked by John Lewis, Paperchase, Urban Outfitters, Hot Topic, Topshop, Tesco, SOMA Gallery, Yard Gallery and ASOS!
One day I'd like to be a children's book illustrator, but for now, you might find me drawing, painting, blogging, making cute things from wool, watching nature shows, or hanging out with my pet axolotls and cockatiel. If you have any questions, don't hesitate to get in touch! I'd love to hear from you.
Soph x
Sophie Corrigan joined Society6 on April 23, 2012.