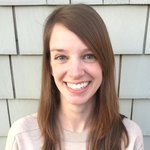 staffordbensen
Interior designer and habitual designer of all things! New England by way of D.C. Sporadic watercolor sketches, but mainly snaps and memories from my strolls that I want to be forever ingrained in my mind. I'm an interior designer after all, and aim to have only art that I would use in my clients' homes. Peep my site and blog to get some insight into my twisted and curious designer brain. www.staffordbensen.com staffordbensen joined Society6 on July 14, 2016
More
Interior designer and habitual designer of all things! New England by way of D.C. Sporadic watercolor sketches, but mainly snaps and memories from my strolls that I want to be forever ingrained in my mind. I'm an interior designer after all, and aim to have only art that I would use in my clients' homes.
Peep my site and blog to get some insight into my twisted and curious designer brain. www.staffordbensen.com
staffordbensen joined Society6 on July 14, 2016.
Popular by staffordbensen
45 results
Filter