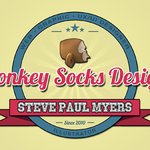 Steve Paul Myers
My name is Steve Paul Myers and I studied Interactive Media Design at Northumbria University and graduated in July 2011.
I am an illustrator, interactive media designer and web designer. I wrote my dissertation on the evolution of the comic book and I'm in the process of getting it published.
I have been drawn (excuse the pun) to art and design long before university and I have been posting on DeviantArt for years. I have created several infographics and I have panache for social media.
If you are interested in commissioning me for any illustration work please email me at hello@stevepaulmyers.co.uk.
Read more