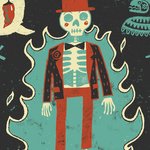 Steve Simpson
Instagram/Twitter: @SteveSimpson With over 30 years experience, Steve Simpson's whimsical approach to his work has earned him top international awards for illustration, packaging design and his art for children's books. Steve has regularly had work exhibited in London, LA & New York and has has been featured and interviewed in many prominent magazines and blogs globally. Steve is originally from the UK but has made Ireland his home for the last 20 years. Lots more info at www.SteveSimpson.com ■ Twitter ■ Facebook ■ Behance ■ Steve Simpson joined Society6 on January 19, 2010
More
Instagram/Twitter: @SteveSimpson
With over 30 years experience, Steve Simpson's whimsical approach to his work has earned him top international awards for illustration, packaging design and his art for children's books. Steve has regularly had work exhibited in London, LA & New York and has has been featured and interviewed in many prominent magazines and blogs globally. Steve is originally from the UK but has made Ireland his home for the last 20 years.
Lots more info at www.SteveSimpson.com
■ Twitter ■ Facebook ■ Behance ■
Steve Simpson joined Society6 on January 19, 2010.