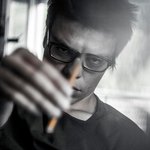 Stoian Hitrov - Sto
Hi am a graphic designer trying to find my way in the world of art. I am interested in visual communication with minimum elements. Which makes me minimalist i guess. You can check my portfolio here: https://www.facebook.com/pages/Stoian-Hitrov-Sto/800730783316128 https://instagram.com/stohitrov/ http://stoianhitrov.tumblr.com/ or email me: stoianhitrov@gmail.com Stoian Hitrov - Sto joined Society6 on February 15, 2014
More
Hi am a graphic designer trying to find my way in the world of art. I am interested in visual communication with minimum elements. Which makes me minimalist i guess.
You can check my portfolio here: https://www.facebook.com/pages/Stoian-Hitrov-Sto/800730783316128
https://instagram.com/stohitrov/
http://stoianhitrov.tumblr.com/
or email me: stoianhitrov@gmail.com
Stoian Hitrov - Sto joined Society6 on February 15, 2014.