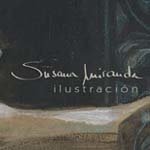 Susana Miranda ilustración
www.susanamirandailustracion.com Freelance illustrator based on Madrid. She has been working for 20 years as fashion designer at an important Spanish company. In the year 2010 she changed the fabrics for paintbrushes and since then she devotes himself fullly to the illustration. She was formed as fashion designer in Madrid and also in the Istituto Marangoni of Milan, where in addition she made the course of Illustration encouraged by his "teacher" Paolo Parente. Also she is licensed in traditional Animation by the High school of Drawing of Madrid, Esdip. Thank you for buying Susana Miranda ilustracion´s products at Society6 store. I would be very grateful if you could send me a photo of your acquisition to: susanamirandailustracion@gmail.com Susana Miranda ilustración joined Society6 on May 26, 2013
More
www.susanamirandailustracion.com Freelance illustrator based on Madrid. She has been working for 20 years as fashion designer at an important Spanish company. In the year 2010 she changed the fabrics for paintbrushes and since then she devotes himself fullly to the illustration. She was formed as fashion designer in Madrid and also in the Istituto Marangoni of Milan, where in addition she made the course of Illustration encouraged by his "teacher" Paolo Parente. Also she is licensed in traditional Animation by the High school of Drawing of Madrid, Esdip.
Thank you for buying Susana Miranda ilustracion´s products at Society6 store. I would be very grateful if you could send me a photo of your acquisition to: susanamirandailustracion@gmail.com
Susana Miranda ilustración joined Society6 on May 26, 2013.